The Imperfect Storm: Post-COVID Frustrations Hit UK Industries

Published on: Wed, 11 Aug 2021
By: Fatmir, redwigwam
The UK labour shortage continues in the wake of the COVID-19 pandemic. And as businesses re-open fully, many industries are suffering from new challenges associated with labour shortages. This blog will review a couple of examples in more detail. 
Hospitality
First, let's look at the hospitality industry which can't seem to catch a break; worker shortages are now taking their toll on restaurants and other businesses that rely on customers who eat, sleep and travel abroad. Social media posts are full of apologies over frustrations in finding enough workers to simply remain open. Some have had to reduce opening hours or close on specific days to stay afloat. There are several reasons why, but it is mainly due to EU workers returning home and leaving behind incredible staff shortages in their wake. In fact, staff shortages are at their highest levels since records began.
An alarming one in five workers have left the hospitality sector primarily due to COVID and Brexit. Staff that have returned to their former roles has led to additional shortages because they are told to isolate. This is known as the "pingdemic."
Kate Nicholls, chief executive of UK Hospitality, confirms that COVID has "definitely exacerbated" shortages. But Nicholls suggests that Brexit is not the big smoking gun, but rather the recent departure of EU workers seems driven more by COVID than any other cause.
Looking for a flexible workforce?
If you're looking for a flexible solution to your staffing needs, why not get in touch with us today?
Get in touch
Logistics & warehousing
Let's also look at the logistics & warehousing industry in the UK, where they too are feeling the impact of worker shortages. 
Port congestion, skyrocketing freight rates, and Brexit chaos are responsible for critical staffing problems, according to a new report from Logistics UK. The challenges of the pandemic and Brexit have led to nearly 80,000 EU nationals leaving the logistics & warehouse industry turmoil during the past 12 months, taking with them a significant skills gap. Manufacturing and construction trades are not faring much better. 
Director of Policy Elizabeth de Jong commented: "With a total shortage of 76,000 HGV drivers alone, logistics is urging the government to take immediate action to address the long-term structural issues with the labour market and to enable UK workers to step in and fill these vacancies so trading can continue."
UK Employers Grapple with Extreme Labour Shortages  
In a rush to return to normalcy and to reopen from weary lockdowns, Britain's employers are facing tough staff shortages and a drop in overseas workers. Recruitment firms are perhaps the best barometer, reporting hiring challenges in many sectors. According to the Overall Staff Availability Index, the concept of available labour has dropped to the lowest rate on record, as evidenced by the following graphic from the Guardian: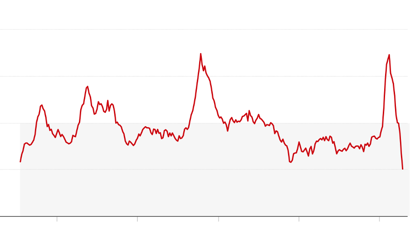 Source: KPMG and REC, UK Report on Jobs. Note: Any reading above 50 signals an increase or growth from the previous month; a reading below 50 indicates a decrease.
Job Postings Are Way Up
No surprise at all, but job postings are dramatically up in many industrial sectors. The following graph shows seasonally adjusted job postings from Feb 2020 to July 2021. This includes data from the worst of the pandemic and from the best in job opportunities.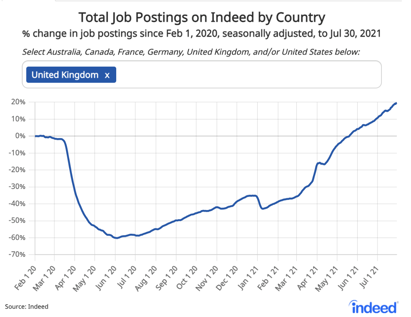 While usually a cause for celebration with the labour market pool empty it presents a serious problem which forces businesses to close or change their hours of operation. Job postings have surpassed the pre-pandemic baseline in all regions of the UK and especially the North East:
Additional Staffing Problems
There are additional problems to consider that may delay employment recovery including:
Britain has become less popular with EU jobseekers since post-Brexit immigration rules were put in place in January 2021.
Overall job searches are down 36%. Searched for lower paid jobs are down 41% since 2019.
New immigration rules have altered jobseeker search patterns in the UK. EU jobseekers are less likely to search for UK jobs since the 2016 Brexit referendum. The UK government is also seeking to prioritise those with the highest skills versus those looking for lower-paid occupations. Jobs in the veterinary category, followed by cleaning & sanitation, hospitality, scientific research, pharmacy, education, and customer service have witnessed significant job posting gains. Some of these are higher paying professions, others not so much. Attracting workers from other countries has a whole host of problems too. Brexit rules need to be relaxed before the number of candidates comes closer to the number of jobs.
COVID 19 has done its fair share of restricting movement across borders.

Unfortunately, there is no end in sight as variance types flare up and threaten additional actions.
Is flexible the solution?
Unfortunately, when discrepancies between staffing and jobs becomes so split, there is no immediate resolution.
But perhaps it's time to look properly at what we are asking our workforce. Ensure flexible working hours, a fair rate of pay and career progression. Ensure your business stands head and shoulders above the rest to attract – and retain – staff.
Looking for a flexible workforce?
If you're looking for a flexible solution to your staffing needs, why not get in touch with us today?
Get in touch
Proudly working with businesses all over the UK